Hello everyone, my name is Ruta, and I am thirty-three years old. I have a normal to slim figure, weigh sixty kilos and am one metre seventy. I have long hair, which is now dark red. I am the lucky owner of a pair of firm breasts with small, sensitive nipples. I have been in a wonderful relationship for years. I really am a princess in it, although I am not when you see me. I'm a bit of a rock chick. Not really a fashion doll, but I always get the attention I need from men. As far as sex goes, I really have nothing to complain about. Photos by Ruta.
---
My man always comes to me first before he comes himself. OK, a quick one now and then, but otherwise. He always makes sure I come several times, and when I do, he squirts a bit. So I had nothing to complain about. And he never said no, just try it and tell me if you don't like it. Now you have to know that I have a very white skin colour and the idea of fucking a dark man seemed great in my imagination at the time. My boyfriend is half Italian and therefore also slightly tanned, but not exactly a real negro. It just seemed horny to me. He always said: "If you want it so much, we'll do it one day.
After eight years, I made the move.
Now it is almost eight years later and I have never made a move. What I said, in my fantasy it seemed wonderful to feel a huge, huge, dark cock in my pussy. The thought still made me horny and mega wet, but in real life, well, I didn't dare. I didn't think it was right against my cane. And for the same money, others would find out, and what would they think? Sometimes we would talk about it and he would always say: "Well, just try it, I'll see how it goes. It made me laugh. It's weird, watching your girlfriend fuck another man. A fortnight ago he revealed that it wasn't really weird and that it happened more often.
He showed me videos on the internet where men were watching their wives fuck another guy, and also a negro. All men with huge dicks. To be honest, those videos made my blood boil. But the thought of me doing the same made me come violently when my boyfriend fingered me. He laughed and said: "Wow, darling, you're already bloody horny just looking at something like that. I guess it's not just a fantasy, but you really want to try it sometime". I didn't say anything, but secretly he was right. I really wanted to. Last Saturday was a Saturday like no other. We went to the market together, then went shopping.
He walked me into a lingerie shop and looked around. He stood next to me and said, "What would you wear if you could live out your fantasy?" I smiled and looked around. I picked up a nice set, a beautiful lace, translucent black and pink half-cup bra, and a matching thong, slightly translucent. Then I grabbed two more pairs of stockings and I was done. He grabbed everything, went to the till and came back smiling. "Well, we've got that for now." I laughed and we walked out to our favourite pub for our Saturday afternoon drinks. We did this every Saturday. We drove home and I had had four wines and was in a good mood. Still a bit dizzy though.
At home, I made something delicious to eat, with a glass of wine to go with it. By the third glass, my boyfriend laughed and said, "I think you should put on your new set, then you can show it off nicely". I was startled; he hadn't arranged anything, had he? He kept smiling and I really thought he was up to something. I got into the shower and thought no, he was just pulling my leg. I shaved my pussy smooth again and thought, "Bastard. I'll get him. I put on the set, my breasts popped up a little above the cups and which made my tummy feel excited. I rolled the nylons over my legs and put a short dress over them. When I looked in the mirror I saw the hem of my nylons peeking out from under the dress, I found it horny to look at and I knew he liked it too. I took a pair of nice high-heeled boots out of the cupboard. The boots came up over my knee.
He looked at me with big eyes.
I came back downstairs dressed like that. He looked at me with big eyes as I walked into the room in those high heels. I could see he was getting horny because of what I was showing him. A few minutes later, the doorbell rang. Huh, what's that? He opened the door and a moment later a strange man came into the room. I looked at him and said, "What have you done now? I didn't do anything," I said. He laughed and said, 'You don't have to. I met him on the internet and this is a sort of introduction. He knows this is a surprise for you. You decide how it goes.
His name is Arthur". Shit! I entered the room nervously and plopped down on the sofa with a glass of wine. Arthur was a very handsome negro, with a bald head, a firm body and fifty-five years old. I laughed to myself, fifty-five years old, yes bye. Much too old. He was very nice and there was no talk of sex. There was just laughter. After I came out of the toilet, I went for a cigarette with him. For us, as for many others, this is only done outside. Arthur smoked too and we stood outside together. There I received the necessary compliments from him and heard what my friend had written about me. And that it was all true. A beautiful girl, with a good figure, excitingly dressed and with a delicious charisma.
He also managed to tell me that it was the first time for him. He looked at me closely, his eyes went to my bottom, he smiled and said: "Your friend didn't lie, you're really delicious". He stood close to me and for the first time, I felt a tingle go through my body for this man. It must have been the alcohol. He came even closer and said, "May I?" I thought as I felt his hand on my bottom. He kneaded my bottom for a moment and said; "wow delicious". That was the moment when an immense thrill went through my body and I felt a reaction in my pussy. It was only for a moment and brief, but the tension was intense. We went back inside and I was nervous but suddenly very horny.
My friend could see it in my face. I had a blush on my cheeks and my body was saying enough. I wanted him! My body had only one thing on its mind. Sex! Fucking and being fucked! We sat back down on the sofa and he was right next to me. Then a mobile phone rang. It belonged to my boyfriend, who is a team leader, and he was being called from work. He disappeared into the kitchen. Arthur and I continued to chat happily. Shit, all I could think about was sex. My boyfriend came back and said: "I have to go out for a moment, but I will be back soon". Okay. So I would be alone with Arthur.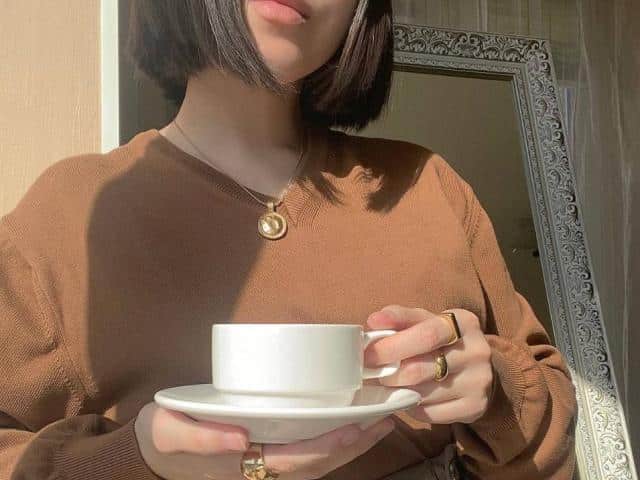 He gave me a kiss, smiled at me and said, "Have fun, darling. From the way he said it, I knew exactly what he meant. But to go on without him? No, then nothing will happen. Soon I'll want to stop and he'll just carry on. He was gone and I had another drink. Now I was sitting very nervously on the sofa anyway. He came closer and said: "Calm down Ruta, I'm not going to do anything you don't want me to do. And if you want me to go, just say so. Then I'll just go."
Okay, that calmed me down. Apparently, it showed on my face. I got up again for my next drink. I stood in the kitchen and noticed that I was still very dizzy. Well, the drink had done its job very well. I came back and sat on the sofa again. Now he really came over to sit against me. He put an arm around me, smiled and said, "Relax. He stroked my hair and told me again how beautiful I was and that I looked very excitingly dressed. I was so tense. He sat down behind me and said, "Come on, relax. Let me help you," and he stroked my shoulders.
This felt quite good, I must say delicious, and I felt myself slowly calming down. My neck and shoulders were getting a delicious massage. This moment really added to the excitement in my body. His dark hands on my neck, wow! He slid the straps off my dress and continued. The straps slid down my arms. It was clear he was lowering my dress carefully. I cared less and less. I was getting hornier and hornier and more and more relaxed. He rubbed my arms and now kissed my neck, sliding his tongue down my throat.
His hands slid forward and my dress exposed my bra, where I could clearly see my hard nipples pushing through the transparent fabric. He grabbed my nipples with both fingers through the fabric and gently twisted them. This caused a violent explosion of lust in me. My nipples are super sensitive, especially when you twist them slightly and pull them gently. And that is exactly what he did. He unhooked my bra and my breasts came out.
Wow, what a pleasure! These two big dark hands on my full white breasts. I could also feel that my pussy must be soaking wet. He licked my earlobe and slid down, and I spread my nylon-clad legs. I just wanted it, I was ready. It just had to happen now. I wanted to be fucked by this man! Wow, the extra thrill of another man, and a negro at that. His fingers slid along my panties and he laughed in my ear and said, "Shit, how deliciously wet you are. My panties moved aside and then I felt his fingers go through my pussy. They actually slid smoothly through my bare, soaking-wet pussy. I had my mouth wide open and was panting slightly.
One hand on my breasts and the other in my panties on my shaved pussy. I turned my head towards him and started to tongue him. The sparks were flying. I was totally turned on. I wanted this! I wanted to feel his big black cock in my pussy. My dress was off and so were my panties, which had my pussy fluid on them as if I was a snail. I turned around, took off his shirt and licked his nipples as I unbuttoned his trousers. These came down and I got a big horny smile on my face.
He showed me his hard big black cock. My pussy is getting wet. I should be…
There, out of his boxer shorts, came a nice thick, big, firm, hard black cock, with a slightly pink glans, leaking heavily, just like my pussy. No doubt I dove, grabbed this delicious big cock with both hands, licked its wet glans and tasted a foreign cock for the first time in twelve years. What a beautiful big cock, a delicious black cock, with big black bald balls underneath. I pulled, sucked and licked this horny cock as if it was my very last. So I sucked and licked this delicious cock for a few minutes.
Then I went up and crawled on his lap. I felt this huge cock sliding along my pussy, which was leaking like crazy. I moved up a bit, grabbed his cock and placed it in front of my throbbing wet horny pussy. He laughed hornily and said, "I don't have a condom on," as I lowered myself. "Oh yeah," I laughed hornily, "I forgot." Shit, how deep his cock went into my pussy and how it filled my pussy. I was really stretched deliciously. Slowly I went up and down, panting heavily. How delicious it was. A strange older negro with his huge cock in my pussy! Shit, I was getting so horny, not normal.
He grabbed my ass, moved up and started fucking me like this. Faster and faster, and soon I felt my first orgasm coming on, and it was an orgasm, not normal! So I came screaming and felt my pussy juice sliding down his cock. And he kept going up and down. I was completely empty and all I could say was, "Yes! Go on! More! He stood up and held me. Oh my God! Now his cock came quite deep into my pussy. And yes, I came again on that huge cock! He sucked on my nipple and just kept thrusting.
He laughed excitedly and said, "You're completely empty. What a horny woman you are. And I just kept coming on this black cock. I wanted to take a break and have a drink, but I didn't let go of this huge cock and kept jerking gently. His fingers slipped through my pussy. He put the glass down on the table and crawled on top of me. He spread my nylon legs wide and slid his cock effortlessly into my pussy. He hit me straight away and I felt the pussy juice flowing down my asshole. I had never let so much pussy juice out of my pussy before.
I looked down and saw his delicious black cock sliding into my pussy and white strands of pussy juice from my pussy going down his cock. I came again with a huge scream, shaking like crazy and really squirting my pussy juice out of my pussy. He laughed and licked my wet pussy. "How cool," he laughed, "a squirting woman." I laughed too and said, "Shit! I've never come so hard before". We stood close together. I looked at the door for a moment and saw my friend standing there in the dark. So the bastard had never left.
He had just been watching the whole time. Arthur was standing behind me, and soon I was standing a bit forward, and that huge cock was sliding deep into my pussy again. Shit, smoking didn't even work. It really rattled against my bottom and deep into my pussy. Yes, I was coming again! And this time really hard. I took his hand and we went upstairs. On the bed, he crawled on top of me again. I grabbed his hard cock again and pushed it into my pussy. He pulled my legs up and spread them wide and wow what was he doing now? Shit, I kept coming and he kept pounding.
The bed was creaking heavily and I was panting heavily. We tongued each other fiercely and in various positions, I got my dark lover's huge cock in my pussy. I was really being fucked and beaten silly. Of course, my boyfriend was standing in the dark hallway watching with his stiff cock in his hand. That made me come again, and Arthur was getting too much now. With a heavy moan, I felt his cock getting thicker and thicker as he emptied his balls into my pussy. Shaking and panting, he came!
He held me for a moment, then said; "wow, what a delicious piece to fuck you are!" He said in my ear, "let your friend lick your pussy clean, believe me, it's really hot". I waved and there was my boyfriend. Arthur stepped away from me and said, "She's really delicious. Take a good look at how I fucked her." He lowered himself down and I pulled open my freshly fucked pussy as best I could. I was still panting and said, "lick me now". I was just drunk with lust.
Where I thought he was going to say goodbye, I felt his tongue slide through my pussy. I relaxed and felt the cum spilling out and he licked it all up. He licked my freshly soaked pussy deliciously. Soon I was coming on his tongue again, holding his head and shaking. He continued to lick me with his tongue in my pussy. Now he slid his cock into my pussy and Arthur laughed and said, "Call me again when she needs to be fucked. And off he went while my boyfriend fucked me and said horny; "I've just watched you being super horny for almost two hours.
How was it? Did he really fuck you completely silly?" I gasped and said, "It was incredibly horny and delicious. It was really horny getting that big black cock in my pussy, filling me up and you licking my pussy clean afterwards." He laughed and when he finished he confessed that he thought it was really hot to watch me get fucked by another man. Well, the next day we agreed. This would happen more often, and that same night Arthur was there again. This time my boyfriend sat there while I got fucked again.
This time it was even anal with that huge cock, which I came squirting on. The sandwich was delicious too, but that was the maximum for both men and they both came at the same time. Arthur again deep in my pussy and my friend in my ass. Well, and then he was allowed to lick my pussy again, but first he sucked Arthur's huge cock really well. Man, it got hornier and hornier. What will the future bring?
Start your own sex story with these ladies 💦💞