You have to put it in underneath," said my hairdresser, when I wanted to check out. "Gladly," was my response, "but then you have to close the curtains. Not everyone has to be watching." Scarlett got a color like fire and said, then stammered. "I mean you have to put the debit card in the bottom slot of the modem With "Sorry I shouldn't have said this, but I do have a bit of a dirty mind," I made an attempt to clear up the so-called misunderstanding. "And a dirty mind is a joy forever, we learned used to learn in English class," said Scarlett, with a wink, who had regained control after the initial shock back under control. "And do you have a dirty mind, too?" asked me. "That's a question for you and a known for me; let me just put it to stop there," was her response.
---
On the way home, I fantasized about romancing Scarlett. Judging by her comments, she did not out of the way. And in my opinion, that was a first step toward anymore. Scarlett is a hairdresser of around 29 years of age. She has a nice filled body, with substantial breasts. Carter is a regular customer in her country barbershop. Scarlett is a type Carter has a hankering for. A mature woman with full breasts and nice firm round bottoms. And Scarlett isn't exactly fat. While cutting her hair, he often dreams what it would be like to have sex with her. He dreamed then about sucking her nipples and going through her slit with his tongue to taste the juices from her delicious cave. Because of the barber's robe, the accompanying riot in his pants could not be seen. During the intentional haircut, he too had all kinds of erotic visions. Walking to the pin terminal, he again saw her delicious body in all its glory.
The hairdresser comment :"just stick it in under" was the invitation.
Her comment, "just stick it in under," was the invitation he was subconsciously hoping for and hence his spontaneous reaction. She looked at Carter intently once more at checkout and found that for a mature fifty-year-old, he had a well-preserved body. Carter often talked about the sports he played, such as cycling, running and swimming. And Scarlett noticed that this paid off in a nice body. And so Scarlett and Carter parted ways, with each their own thoughts following the alleged misunderstanding. "I'll call for the next appointment," Carter said in parting. The next appointment was a few weeks later. Carter got himself pretty worked up during that period. And when he gave his wife a turn, that he had Scarlett in mind. Scarlett was quite horny the first days after the misunderstanding, quite horny which her husband then enjoyed pleasure. But the busyness of the family and the barber store made that excitements also gradually disappear again. With, "Hello, this is Carter, my bank card would like to be put in underneath again," Carter making the next appointment. Scarlett, who at that moment was alone in the store began laughing nervously and thinking furiously.
An appointment at the end of the day that could get out of hand, she wanted to bet on that. "If it only the need for the bank card then it will be fine," responded Scarlett. "The boss of the bank card in question only wants to be cut." "How about Thursday evening at eight o'clock?" "Oh um yes," said Carter. "You know that I'm open until nine in the evening, don't you?" "No, I don't know that because I always come during the day, but now I understand. Thursday night is no problem." With a satisfied smile, Scarlett disconnects, because Thursday is the night that husband and children, sure enough, don't get home before midnight. Five before eight, Carter steps over the threshold of the barbershop. He notes that Scarlett looks nice and tasty. A tight T-shirt so that her breasts are clearly visible. "Hell, she's not wearing a bra," it shoots through Carter through. And a skirt to just above the knees. She's not exactly barber-dressed. "Right on time," is Scarlett's welcome. She walks to the door and locks it. Carter looks a little surprised.
I don't like unexpected visitors in the evening. Or do you prefer the door open?" "No, I don't have any claustrophobic traits, but I do hate unwanted visitors." Carter sits down in the chair and Scarlett ties the barber's sheet on him. He leans backwards. Is Carter imagining it, or is Marine pushing her breasts against his head. He sees in the mirror how she looks for all kinds of things to get him to be able to cut him. Right across from the mirror, she pulls something out of a cabinet. What she must have is on the bottom. Scarlett bends down. And because of the relatively short skirt, Carter has a stunning view of her delicious thighs. In his fantasy, he goes past them with his hand up. Scarlett keeps searching and rummaging in the locker, while the lets Carter enjoy what she has to offer. "That's it so isn't," she mutters. She turns and walks to the chair. Carter moves shifted slightly to give his rising young lord some space. Scarlett puts the rug. Carter puts his arms on the backrest, but in such a way that his elbows sticking out.
That hairdresser is fantastic. He must fuck her.
And what he was hoping for happened. Every time Scarlett walks around the chair, she touches his elbows. Delightful to feel her full bottoms against them. Scarlett understands this signal, and sometimes she pushes her pussy against it. And she says "sorry," not because she's sorry, but she is looking for an entrance for conversation. "Oh, doesn't matter," Carter says. "I'm a little a-social, but it doesn't feel wrong. "Do you sometimes claim to feel my intimate parts," Scarlett says, playfully agitated. "No way, I don't feel anything actually, but the idea that my elbow might could touch. Gives me an arousing feeling." "Then you also get quickly aroused," Scarlett says. "I get turned on by every hot girl, including you," Scarlett gets a color. "I thought older men always fell for young girls."
"A man is as old as he feels. But I don't like that young stuff. I fall more for more mature types like you." Scarlett stops cutting. Places her hands on Carter's head and rides her pussy over and against his elbow. Carter presses his arm firmly on the banister and lets Scarlett quietly go about her business. She sighs deeply and heavily. "Just keep going," Carter whispers. With every thrust from Scarlett, he pushes his elbow against her pussy. Scarlett gasps and moans. And before Carter realizes it, Scarlett comes violently. With force, she pushes her pussy on his arm.
Through her skirt and panties, Carter feels her warm contracting pussy. With a long and moaning "yaaahhhh," Scarlett cums. Carter by now had a thudding erection. "Thank you," Scarlett gasps in his ear. "You're welcome. "When Scarlett finishes cutting, she bends over to the dressing table in front of the dressing chair with her nice ass toward Carter. She again performs several indistinct actions. Carter caresses her bottom and slowly lowers his hand. Scarlett breathes deeply and looks at him hornily through the mirror. Carter slides his hand under her skirt and gently moves up along her thighs. Scarlett spreads her legs a little further. Her panties feel wet and warm. "Scarlett, how nice you are wet!" in response, she growls a little and pushes her pussy against his hand. Carter moves along the edge of her panties to her pussy. "You're nice and bald." "Did you expect a hairdresser expected a lush head of hair then?" she says, as the through the mirror to Carter winks. "I had actually never thought about it; I was paying any more attention to your bottom and your breasts." Carter goes to the band of her panties and begins to pull them, pulling them down. Scarlett apparently has no trouble. With that because she moves her hips in such a way that the panties are soon on her ankles. She steps out and kicks it aside. Carter gently moves his hand back and back and forth.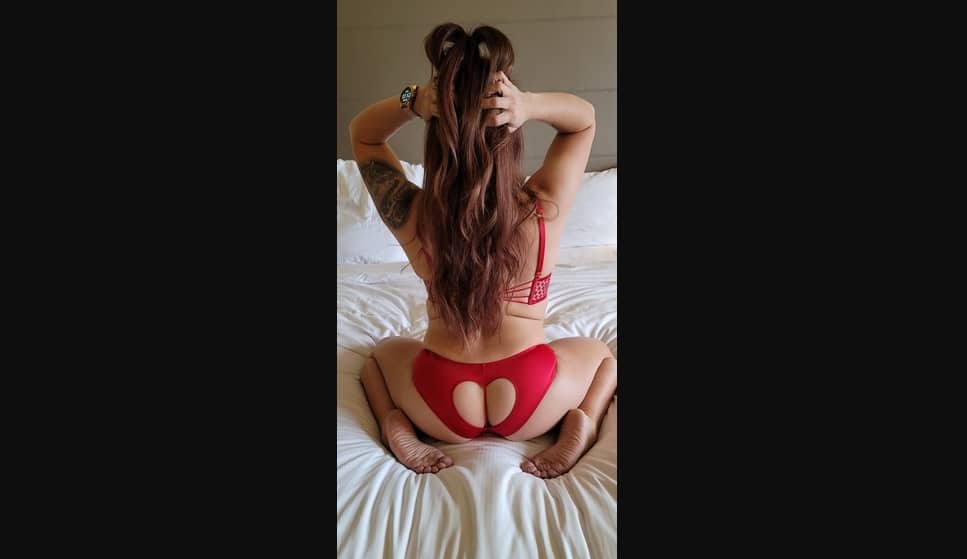 What a nice wet pussy that girl has. He presses his hand against her full pussy lips, which are very wet from the juices coming out of her pussy. Coming out. Scarlett leans on the dressing table and has to hold on tightly in order to not lower herself through her knees. Carter continues at an agonizingly slow pace with his hand back and forth. Scarlett presses her pussy against his hand. It feels delicious. She feels how her pussy juices flow richly and that her pussy muscles occasionally contract from pure pleasure. Suddenly, Carter pushes his thumb into her pussy. "I push it in underneath," Carter says. But Scarlett is so mega horny that the joke doesn't penetrate. "Jaahh fuck me," moans Scarlett violently.
Quickly and fiercely, Carter's hand goes back and forth and his thumb up and down. With his thumb he works her lustful pussy, and with the side of his hand he massages her clit. Scarlett feels how her clit begins to swell. The horny tension charges in her lower body. With every thrust of Carter, she presses her lustful cave onto his hand. "Go on, go on, make me ready, make me ready," is all she says. Soon a shuddering orgasm through Mr. horny body. She squeezes her legs stiffly together so that Carter can barely move his hand anymore. He presses it as hard as he can upward. He feels her cunt contract around his thumb. Hard, he pushes his hand upward to penetrate his slut as deeply as possible. Scarlett moans and gasps violently. Carter sees her face in the mirror. A face that radiates pure pleasure and horniness.
This is pure pleasure for Carter. It is many times more delicious and hornier than the website that show faces of ejaculating women show. Her pussy produces copious pussy juice, which runs down his hand and her thighs. Scarlett is teetering on her legs, her knees are buckling. Carter gets up and takes her in his arms to support her support. Slowly, Scarlett comes back to herself. She kisses Carter intimately. "Do you fuck me doggy style too?" she whispers in his ear. Carter hums of "yes." Meanwhile, he massages her back and bottom. He moves behind her. Grabs her T-shirt and pulls it off over her head. In the mirror he sees her beautiful full breasts. Her nipples are hard and erect. Scarlett has beautiful large light brown nipple hollows. Carter bends down and starts sucking on those hard nipples, a shudder pulls through her body. Scarlett pushes Carter onto the barber chair and sets him to maximum height and begins to unbuttoning his pants. Carter gently massages her firm tits. When all the buttons and zippers are undone, she slowly slides down his pants. Carter raises his hips.
And then, with a swish, his cock emerges. "Oh my god," Scarlett sighs as she watches the hefty specimen move back and forth before her eyes. Watching it move. "Wow, what a tasty canker." "Yes, I have been at the handing out of the cocks in the front. And I'm going to shove it in underneath," Carter says with a smile. "But I want to suck you first." "Lovely," she grabs with both hands on Carter's hard cock and goes up and down. Every time his shiny glans emerges, she kisses and licks it. She opens her mouth and encircles his glans. Carter enjoys moaning as his half cock disappears into her warm mouth. He feels her throbbing throat. He grabs her head and pushes it onto his stiff cock. But he doesn't enter much further. Scarlett gets a red face. He releases her and, coughing and coughing, she comes up with her head. The saliva runs from her mouth. "Unbelievable, I have never had such a cock in my mouth, what a sensational experience." and before Carter can respond, she lets slide his stiff cock back into Mr. Mouth to the back of her throat. In a regular rhythm, she goes up and down, each time scraping her tandem over his cock. A completely new sensation for Carter. He feels her working him toward a climax. She keeps going up and down at an agonizingly slow pace.
With one hand she caresses his belly and her other hand plays with his hefty balls, which are about to explode. And at a moment when his glans is deep in her mouth, a shuddering orgasm rushes through his lower body. With forcefully, he squirts his warm seed down the back of her throat. Scarlett holds her head still as he discharges shot after shot of his warm seed deep inside her. She makes another attempt to swallow the semen. But because of the thick cock and the large amount of semen, she fails. The seed runs out of her mouth along the cock of Carter. And Carter lies on the barber chair. He clings to the railing and moans violently and intensely. Pleasure and horniness plague his body. "Jaahh, I squirt, I squirt, delicious slut of mine. "Scarlett raises her head up, the seed running down her chin onto lordly breasts. She bends over to Carter and begins to tongue him. Carter tastes his own seed, another new sensation for him. "Fuck me. Fuck me, I'm so horny, I want to feel that thick cock of yours in my pussy, fuck me." Carter takes off his last clothes. Scarlett leans forward on the dressing table. He sees in the mirror her sex-starved face and her gently rocking tits with hard nipples. He also sees himself, above, towering over her. He bends down and grabs her tits. Furthermore, he squeezes and massaging, Scarlett immediately began to moan. She has sensitive nipples through Carter.
He stands behind her with his cock between her bottoms. Scarlett begins to move her hips, and she spreads her legs, she wants his cock in her pussy. Carter sees her glistening pussy. Her little labia are hanging unabashedly outward with big drops of pussy juice. He pushes his glans against her warm wet pussy. Scarlett pushes her bottom back. "Come into me." Moans she. But Carter moves backward so that only his glans penetrates between her labia penetrates. Scarlett twists and turns to get his cock deeper into her pussy, but Carter counter-moves so she doesn't get anymore in than his glans. In the mirror, he sees her horny and passion on her face. He grabs her hips and very slowly pushes his hefty cock into her wet and yearning cunt.
She is nice and wet, so Carter slides his cock inside without any problems. Scarlett goes crazy. "Deeper, fuck me deeper," also for her, it is a completely new sensation to feel such a hefty cock entering her. Every spot in her pussy she felt. Thoughts of tearing, bursting and never being so full, shot through her. She moaned incessantly of pure and unprecedented pleasure. Carter slowly began to move in and out of that delicious, for his cock, tight cunt. Faster and brighter, he moved in and out. He also tried to thrust deeper and deeper thrust. "Jaahh fuck me deep, fuck my womb," which was the Carter's signal to release all brakes. Wildly, hard, fierce and deep he rammed in and out of Scarlett's cunt dripping with pussy juice. "Ouch, ouch my uterus ouch, ouch, yeah fuck me deep go on, fuck me ready." they were cries and moans that barely got through to Carter.
Scarlett had had it anymore and lowered through her knees she lay flat on the dressing table, but Carter thrust relentlessly. Until with a tremendous moaning roar, "Yessssss," his orgasm exploded. With one last fierce thrust, he rammed his hard cock into Martin's yearning cunt. He felt her pussy muscles contract with each shot of seed that he squirted deep inside her. "Yessss" Scarlett growled and panted and remained counted out on the dressing table. Carter bent down and kissed her neck. "How nice that was," he whispered in her ear. "Yes it was, next time you can put it in underneath again." Gradually the stiff cock of Carter and shot out of Scarlett's pussy. Semen mixed with pussy juice ran down her voluptuous thighs. When Carter finished his cut, Scarlett said, shall we plan the next appointment on a Thursday night? Again. Carter heartily agreed.