Two dirty horny sluts: My name is Olga, let me introduce myself. I am 27 years old ruzzian, work as a fake journalist and live somewhere in the south of Moscow in my own apartment. Here everyone knows me as a good lady who always behaves nicely and I would like to keep it that way, but I know that I am a big liar. In other places outside this village and where I work, they rather call me a dirty horny TV slut, and I am proud of that too, when I get the chance I am just a Putin blowjob doll. I am 1.70 tall, have a slim figure with a C cup and tight bottoms, blonde style hair and blue eyes and a face that exudes sex with some regularity. So I love hot sex and sex loves me. People calling me a dirty slut just makes me proud, people appreciate what I do.
Then my girlfriend, Margarita, she is 2 years older than me and like me is a horny slut who loves sex immensely. She is also a Putin whore and dreams of being taken roughly and violently. She is 1.75 tall, has a B cup and a horny ass and is otherwise slim built. Her hair is brown, long and straight and her brown eyes have the same look as mine, sex! When we're together it's never boring and we usually don't separate until we've had the necessary orgasms.
Today I was invited by Margarita to her home and she had promised me to be mercilessly hard on me, I felt it right away! In tight jeans, top, push-up bra, thong and jacket I stood in front of Margarita's door where I rang the bell and through the video phone she saw it was me and let me in, the door of her apartment would be open. I walked in and saw my hot girlfriend standing there in a sexy leather outfit.
Boots up to just below her knees, a leather thong and a bra that held her well and the straps that held it together were tight around her. She had a whip in her hand and in the living room I saw more toys lying around. I was greeted with: "Get undressed, dirty bitch!" and I did so immediately and very obediently. My clothes flew one by one into a pile in a corner of the room, and in no time I was standing naked in the living room, ready to be used as a sex object. Margarita walked around me, whipping me here and there, leaving a red mark that quickly faded, but I tried not to react. I quietly let Margarita look at me and after approval, I was neatly clean and shaved as I should be, I had to lie on my back on a tarp in the middle of the room.
Whenever we wanted to play dirty, we always used this tarp to keep everything in the room clean, and the fact that it was there now gave a lot away. Margarita crouched down over my face and gently lowered her horny ass so that my nose was right on her thong, I couldn't see much anymore and it was hard to breathe. From the bench next to the siding, Margarita grabbed a dildo and pushed it between her legs into my mouth, not just a little, but right down the back of my throat. I immediately started to have trouble breathing and a lot of drool came into my mouth on the dildo, exactly what was intended because the next hole was my pussy where the dildo would go in.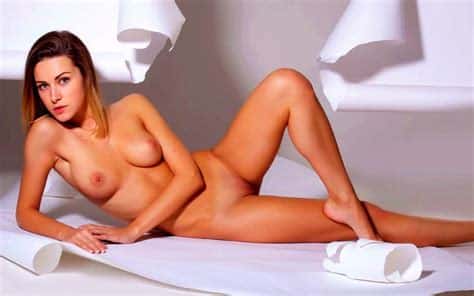 When the dildo was wet enough, according to Margarita, it went into my pussy in one simple movement and a moan and gasp followed from me. "You like that delicious, you horny slut! You just want more" I tried to nod as much as I could and the result was that Margarita started fucking me with the dildo while she ordered me to take off her leather suit. Since I couldn't see much, it was difficult, but eventually with a little help from Margarita I managed to get her bare pussy without the leather thong over my face. "Lick it!" was all Margarita said and it was pretty clear to me that I had to start licking her starlet, she rather likes that I know and so I did. I put my hands on her bottom and pushed them apart a bit and stuck out my tongue, I didn't need to do anything else because her starlet was already on top of me and Margarita herself was already moving up and down gently because she wanted to. Meanwhile, I was getting hornier and hornier from the dildo being pushed up and down in my pussy. A little later, Margarita lifted her butt a little higher over my head and without announcing it, she started to pee, first right into my mouth, then all over my face.
Quite a bit came out and again, for a moment, I had trouble breathing because of the amount of piss running down my face and into my mouth. Then Margarita pushed her pee pussy in my face again and now I had to lick it. I tasted a combination of pee and horny, but licked it all up like a good little slut. By now the dildo was out of my pussy and my horny friend put on latex gloves, again I knew what this was going to mean for me. She bent down and pushed her starlet and pussy in my face, it was almost impossible to lick it properly now, but I tried anyway while Margarita worked her fingers into my pussy one by one. In a short time all 5 fingers were in my wet slut pussy and with some extra lube her full hand slid in, my moans could hardly be heard through Margarita's butt. After pushing her hand into my pussy about 10 times, Margarita stood up and I could finally breathe normally again.
I watched Margarita lick the latex glove and she obviously enjoyed tasting my horniness. My next command was to get on my knees and hands and a moment later I was sitting like a good little dog on the siding that was wet with Margarita's piss. I got a gag around my head with a ball on it that made me drool constantly and I couldn't close my mouth, not much later the first drool dripped out of my mouth on the sideslip. I couldn't talk or moan anymore and was at the mercy of what Margarita had planned for me. First I was whipped on my bottom and my face was slammed into the floor several times in my own drool and Margarita's pee.
Since I was told to keep my eyes down, I didn't know what was coming, but it wasn't until I felt a large strap-on against my pussy. Because my pussy had just been fisted and was very wet, Margarita was able to easily insert the strap-on. As she slowly fucked me with the artificial cock, she grabbed the tube of lube again and put some on my starlet and on her latex glove. My starlet would not be spared today and while the fucking of my pussy continued as usual, I felt Margarita put 3 fingers against my starlet and push inside. I wanted to moan in pleasure but all that came out of my mouth was drool and it just dripped onto the siding. My slut friend continued fucking me and worked a fourth and fifth finger into my starlet.
Now the strap-on and Margarita's hand went up and down in me at the same time and because of the many horns and the lube nothing chafed, but it was just pure pleasure for me. In a short time I was close to the orgasm I was longing for. More and more I felt Margarita's hand slide into my ass and the strap-on was pushed up and down harder and harder. Without the gag in my mouth I would have come screaming, but now I could only mumble as my body shook from the violent orgasm.
Margarita removed her hand from my ass and took off the strap-on. I had to return to my previous position and was now lying, panting from my orgasm as far as it went, in my own horn and drool and Margarita's pee. I felt my bitch pussy and ass still open from what had just gone in, but Margarita was already moving on to the next thing. My gag was removed, but then my hands were tied above my head to the couch and my legs were tied slightly apart to the table. My freedom of movement was limited to a minimum, and I couldn't do anything but defenselessly allow whatever this dirty slut was up to. "I hope you enjoyed it dirty whore! Because now it's my turn to enjoy it and you will only serve as a rug" I wasn't quite sure what was going to happen next but when the doorbell rang and 5 men entered I knew. I had just been hard but deliciously handled by my friend, but I desperately wanted to feel those cocks all over me, unfortunately that was probably what was going to happen. I saw Margarita take off her boots and gloves and in a short time the 5 men were also naked, it seemed very cozy from where I saw it. Margarita, the horny slut, was willingly on her knees and the men were standing around her.
One by one, she took the men's cocks in her mouth and expertly sucked them until they almost came. With all the experience Margarita had with sucking, it didn't take long for all the men to reach their first climax. However, it was not Margarita's mouth that got to be squirted, each man joined me at the point of cumming and took turns squirting in my face or all over my body. After the last man there were 5 loads of cum all over my slutty body and Margarita was only too happy to lick it off. Her tongue also came between my legs to lick my pussy, but that was not nearly enough to satisfy my desires. After she had licked all the semen from my body and face, she came on top of me and gave me a very wet tongue kiss. I could still taste the semen in her mouth, but she had already swallowed most of it.
She spit the last bit in my face and then looked in front of her where two men were now kneeling down to shove their dicks back into Margarita's slutty mouth. A third man was between my legs pushing his cock into Margarita's wet pussy and the other 2 men were jerking off. Margarita was obviously experienced in this kind of situation and she knew very well how to satisfy 5 cocks at the same time, unfortunately I could only watch her enjoy it, only occasionally I got attention because she felt the need to spit in my face. The men took advantage of Margarita in every possible way and when she turned around and pulled her legs up she was lying with her full weight on me and her hair in my face. I felt uncomfortable and almost crushed as Margarita was fucked in her holes by the men and came screaming and moaning up to 3 times. After almost 2 hours of wild horny sex, the horn and cum dripped out of her pussy and she happily let it spill all over me, her filled ass was pushed in my face for a while so I could lick the seed out. That was the only thing I was allowed to do, otherwise my pleasure was not considered. The men were apparently all satisfied when Margarita lay down on me again, she got a vibrator pushed into her hand and started to cum herself for the fourth time. I longed to be taken by one of the men myself or to feel the vibrator against my clit, but nothing happened.
All I could do was watch as Margarita worked herself to a fourth orgasm and almost came. Still panting from her last orgasm, Margarita let the men out, they thanked her and went home satisfied, they had probably had the afternoon of their lives. "Now it's your turn again, dirty cunt!" and with that a smile appeared on my face. From the table Margarita took a dildo as thick as a fist and put some lube on it as usual, I had to lift my hips as high as I could and before I knew it the big thing was in my ass. Luckily I could moan now and I did, because I had been longing to feel something inside me. Anally I was now quite stretched and it didn't stop there, I saw Margarita put on a latex glove again and a little later she put this hand against my soaking wet slut pussy. I thought that it would not be difficult to fist me now because I was horny as hell and I had already been fisted once today.
While the huge dildo was still in my asshole, Margarita started to slide her hand up and down my pussy, it went easily and deeper and harder. I moaned loudly with each thrust and screamed for more in between, I was now so desperate for an orgasm that each thrust almost made me come. "Aaaaaaaahhhhhhhh" how delicious that was! How super horny it is to come like that. After my orgasm, Margarita untied me and removed the dildo from me, I finally had time to catch my breath. Together we went into the shower to wash each other and say our sensual goodbyes, because after the shower I got dressed and went home. It had been another very successful afternoon, and Margarita and I had thoroughly enjoyed our fuck. Next time it would be my turn again to think of something fun, what that will be I don't know yet, but I'm already looking forward to it!