Kendra was 19 years old and a beautiful ebony girl. During the week, she went to school and often played sports. She loved it. She had been doing gymnastics since she was 5 and going to the gym since she was 14. So she worked out 3 or 4 times a week. Over the past few years she had started working out more and more and doing gymnastics less and less, and last year she noticed that her body was responding.
---
Her abdominal muscles had become firmer, and her relatively thin arms were slightly toned. Her already small butt, when she tightened it, became a nice tight butt. Going out had certainly become another hobby over the last year, and she also enjoyed flirting with boys very much.
She had been dating Peter for a year now. Peter was 20 and madly in love with her. Kendra had been a virgin until she was 16, but after meeting Peter, she wanted to do it with him. So after about 3 months of courtship, it happened and she had sex for the first time in her life. So now she had been having sex with Peter for about 9 months and it was very nice, but Kendra wanted to flirt again like she used to when she was out and about and she was also curious to see what it would be like with other guys even though Peter was so sweet to her.
So it was that Kendra could be found in the chat quite often. She loved to be questioned by strange boys. She logged in under her second MSN name and was not the shy girl she was in real life. She flirted with everyone. Even older boys, but she liked younger boys or boys her age. Kendra had a webcam and showed the boys her beautiful ebony body and smile and of course her cute head with black curls.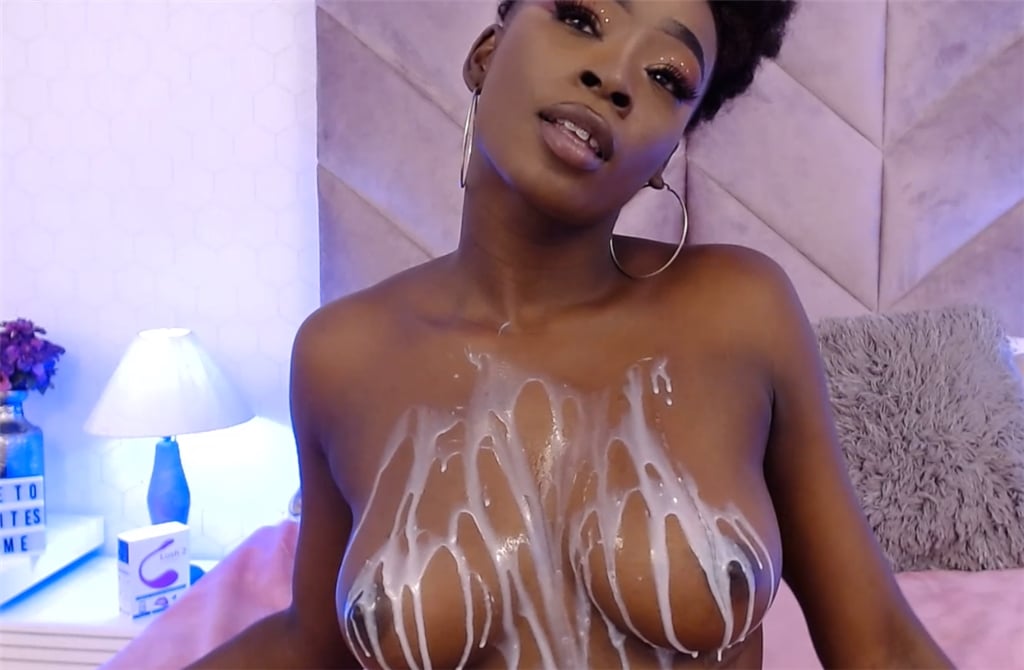 Six months ago something else happened for the first time, she decided to become a webcam girl in the evenings. Countless men lusted after an ebony webcam girl, she found out. She was camming with a boy and of course he wanted to see what she looked like. Normally she didn't do that, but then she stood up and showed the boy her stomach and butt from a distance. The boy had become very horny and had suddenly lowered his pants so that Kendra was suddenly looking at the boy's hard dick. She immediately pushed him away and Kendra stopped masturbating. But a day later, she was still thinking about that boy's hard cock. It was obviously much bigger than Peter's and that night she logged on again. The boy was back and wanted to come again. Kendra agreed if she could at least see his face.
The boy agreed and they chatted for a long time about everything. After a while, the boy asked her if she liked the look of his dick. She told him it was only the second stiff cock she had ever seen. The boy found that exciting and asked if she wanted to look again. Kendra was getting hot and agreed. The boy stood up and dropped his pants again. Kendra blushed as she unabashedly looked at his cock. How hard and long it was. The boy asked if he could play with it. Kendra agreed and before she knew it he was jerking off. After about 5 minutes she went offline again, but in the following days she saw the boy more and more on cam. After about a week they were back on cam. The boy had already taken his boner out of his pants, but after about 2 minutes he stopped and put his face back in the picture. Then he said, "So Kendra, now I want you to show me something. Kendra thought he was going to ask her something like that.
And asked what she should do. He wanted to know exactly what she was wearing. She stood up and the boy saw that she was wearing tight sweatpants and a top with a cardigan over it. Underneath, she had on a thong and her bra. She walked in front of the cam and showed her bare tight belly and also showed her ass. When she sat back down the boy asked her what size bra she had. She told him it was a 65B. Immediately he said he wanted to see it and that she should take off her clothes. Kendra was very reluctant but felt she owed it to him since she had seen him too.
She took off her cardigan and top and unhooked her bra from the back. Her tits popped out. Her breasts were not large and her small nipples stuck out. While she sat topless in front of her cam, they had a nice chat. They also talked a lot about sex and that excited Kendra a lot. After a while the boy asked her if she shaved her pubic hair. She loved the attention and told him that she shaved but that she was not bald. The boy asked if he could see it. Kendra realized that she just felt like it and decided to do it. She stood up and pulled her sweatpants and thong down over her tight butt. She picked up her webcam and held it to her slit so he could see her pubic hair.
When she tried to stop, the boy told her to sit down with her pants lower. Kendra did so and pulled her pants down to her ankles. The boy now saw only her vagina and asked if she would finger it for him for a moment. Kendra looked at herself as she sat there. Topless and with her pants down to her knees. She felt a little cheap. At the same time, she had just become incredibly aroused. She felt herself and she was already very wet, but she was always very quick anyway. Peter didn't have to do much foreplay in their relationship before he could fuck her. By now she could see the boy pulling hard on his hard white penis. Boy, how delicious that was. She was eager to come and it was almost here. When she saw that after about 20 seconds the boy had big jets of thick cum coming out of his boner, Kendra let herself go. She ran her fingers a little faster over her hard nub and then she was done. A strong tingling sensation in her tight lower abdomen was a sign that her young pussy was getting ready. Kendra felt like she had cheated, but she hadn't. She let Peter fuck her in the evening and enjoyed the experience intensely.