The story of a man who has to join as a transvestite and make love with Mistresses and transgender (MTF) girl.
---
I was dressed as follows when I went on my way to see my Mistress: I wore a white leather dress, up to just above my knees. Underneath that a white silk corselet, filled with fake breasts Cup C and with suspenders, a red silk pantie with transparent front and white stockings with black leather boots over them to just below the knee. Since it was quite cool, I wore a beige fake fur coat over all of this. All this I had topped off with my dark blond, long-haired wig. Dressed like this, I arrived at my mistress' house at about 8 a.m. She opened the door and let me in. Before leaving, we had some coffee together, and while we were doing this, she inspected my clothes. After coffee, we got into her car and drove to the station.
Arm in arm, we walked across the square into the station building to the ticket office. On the train, we sat down in a four-seater seat, next to each other. We knew that it would be so crowded that people would have to sit opposite us. That's what happened, 2 old ladies. From their looks, I could see that they were in doubt… Is it a man? Is it a woman?… To put an end to all doubt, my Mistress stroked my thigh, slowly but surely rolling up the edge of the dress so far that my panties and matching bulge became clearly visible. The ladies got off at the next station!
All that caressing had of course made me pretty horny already, and once we were sitting alone, Mistress started caressing me over the panties, until a wet spot appeared from the pre-cum,… and then she stopped! Real torture, believe me.
Shortly after I have had a hard-on or have cum, I always have to pee. So did now. When I reported that to my Mistress, she ordered me to hold it up until we got to the city, which at that point wouldn't be that long. Once we arrived, she walked me to the lady's room. She told me to go to the bathroom, sit down, and pee, but… I was NOT allowed to take off my panties! That meant, that I would have to walk around the rest of the day with soaking wet panties, like a real slut. Of course, I did what I was told and then we went to visit some sex shops.
When we found one that my mistress liked, we stayed there for a long time looking around. Mistress decided that this shop was worth trying out some items properly, and asked and got permission from the owner to use the fitting room. First up was a nice anal plug to be unwrapped. In the cubicle, I had to stand forward, and the panties were pushed aside. After inserting a little lubricant into my man pussy, the plug was slowly but surely pushed in. Delicious it was, especially when Mistress started gently massaging my cock while the plug was being slid in and out.
After a few minutes of playing with me like that, she pushed the plug all the way in and slid the panties back into place. Next, 2 wrist cuffs with anchors were taken, and my wrists were cuffed to my back. I had to kneel and lay my head on the stool. I felt the leather hand of my mistress, slowly moving up my dress to above my bottom. Then she put a blindfold on me. Tense, I waited to see what would happen next. I heard her walk out of the cubicle, and return a moment later. I heard some rustling, but had no idea what was about to happen, until she said: "Watch out slutty cunt, this will be a new experience for you". And so it was! With a heavy chattering sound, I felt a large whip around my ass, which sent a throbbing pain through my buttocks. And again, and again. After 10 slaps, she took off my blindfold and showed me what she had used a 9-strike whip. Since she thought this did color my buttocks very nicely, the whip was immediately purchased, as well as the cuffs and plug. After also buying a dildo and a set of wrist cuffs, we continued on our way.
After about fifteen minutes of walking, we came to a building, where on the second floor was clearly an SM studio, as there was a woman dressed entirely in black leather with a whip in her hand standing in front of the window. Mistress ordered me to wait on the sidewalk. She rang the bell, and immediately the curtain closed upstairs. Moments later, the woman opened the door for my Mistress and let her in. After waiting about 10 minutes, my Mistress called me in and introduced me to Mistress Vanessa. She told me that they had known each other for some time and that Mistress Vanessa also had a transvestite slave. They had decided, that for the rest of the afternoon they wanted to enjoy both their slaves, and that we just had to go along with it, and of course, when your mistress orders you to do something, you don't protest.
The Mistresses and now two trans Slaves
I had to introduce myself to Mistress Vanessa in the usual way: kneeling, kissing her leather boots and meanwhile promising to put my trans body at her disposal for her lust. Then I was introduced to her slave transgirl Kimberly. She stood, wrists raised, handcuffed to a chain from the ceiling, in the playroom. She was dressed in a half-cup bra and lace panties. I was propped up against her, with our fronts against each other. I too was handcuffed to the chain, our arms stretched up, wrists together. Then 2 straps were put around us, 1 just above and 1 just below our asses, so that we were tight against each other. The mistresses went for a cup of coffee, in another room, after they had told us that Kimberly and I should get to know each other a little better this way. That acquaintance went extremely well. After I told her my name, she softly pressed a kiss to my lips. Then I felt her tongue slowly push my lips apart.
All too eagerly, I opened my lips and reciprocated her kiss. Soon we were making passionate love, our dicks rubbing against each other through our panties. This couldn't last long, of course, and soon I felt Kimberly fill her panties with a loud moan. This was too much for me and I also felt all the seed come out in a wonderful orgasm. As this was not going too silently, of course, the mistresses came to see where all the moaning was coming from. When they saw our red faces, my mistress already suspected, and when she felt with her hand between our panties, she knew immediately enough. "Horny sluts you are. You can't even wait to cum until you have permission to do so! This isn't what we meant when we said you should get better acquainted!" "Sorry Mistress, but we just got so horny, we really couldn't help it. "Yes quietly, little whore, I understand already, but we will not let you get off so easily". "No Mistress", I replied timidly, realizing that all this time that anal plug was still in my ass. Kimberly and I were blindfolded and heard our mistresses whispering, but could not hear what they were saying. Suddenly I received a firm slap with a slab on my behind, and immediately after that so did Kimberly. Alternately our asses were worked, and with each slap we jerked forward slightly, touching each other's dicks again through the panties.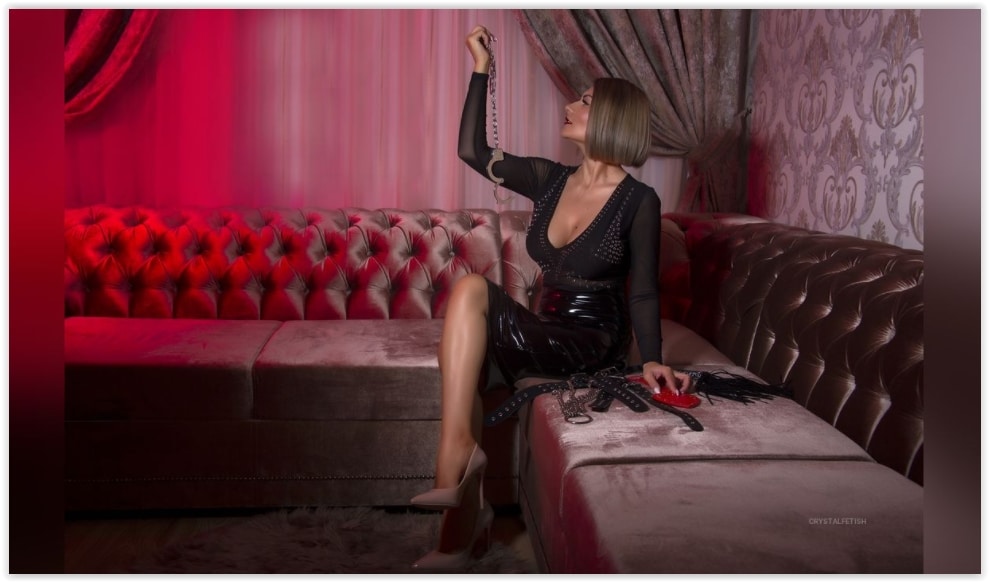 This was so horny, that Kimberly and I soon had another hard-on in our panties. The hotter our asses got, the hornier we became. Just as we were both about to ejaculate again, the mistresses stopped. "So sluts, you thought for sure you were going to cum! No way!" bit Mistress Vanessa. We were detached from the ceiling, and the surrounding straps were removed. I was then bound backwards, arms and legs spread, against the wall rack. Kimberly was then instructed to prepare me with her mouth. Kneeling, she came and sat in front of me, hands tied behind her back. Mistress Vanessa pushed aside the crotch of my panties so that Kimberly could take my pole in her mouth. It was wonderful to feel those warm lips sliding over my penis, so I could not possibly stand still and bucked my crotch in Kimberly's face, at least as far as the cuffs allowed me to do so. My Mistress, meanwhile, was not sitting still either. After Kimberly had started sucking me,
Mistress had strapped on a strap-on. She knelt behind Kimberly, and slowly but surely slid the dildo in along the pipe of Kimberly's panties. Kimberly, her mouth filled with my pole, began to slide her mouth over my cock exactly to the beat of being fucked by my Mistress. Mistress let her hand slide into Kimberly's panties and began to slowly jerk her off. Mistress Vanessa meanwhile had put on a slip with double dildo, the biggest dildo out and the smallest in her own pussy. With this, she now started to fuck my mistress from behind in his pussy. The four of us were spoiled in our most intimate places, and it didn't take long before we were all panting and moaning in the playroom. The atmosphere was saturated with horny sex smells. One after the other we came, first Kimberly, then my Mistress, then me, and then, seeing my horniness running out of Kimberly's mouth, Mistress Vanessa. When we were all somewhat dressed again, we went to the living room for a drink.
Mistress thought it was time to go home, and after thanking Mistress Vanessa by licking her boots, we headed back towards the station. As we passed people, of course, I received the requisite glances. But that's exactly what makes Mistress and me so deliciously horny. The journey back went reasonably quiet, except for the fact that Mistress crossed her knees, and rubbed my crotch with her top foot almost the entire trip under the dress, which eventually, even after 2 ejaculations, made me horny again. Only each time she made sure that I just didn't come.
Once I arrived at her house, she immediately pushed me into her playroom. She told me that 1-time ejaculation was not enough for her and that she wanted to play with me until she was finished. Of course, I had no objection to this, on the contrary! Without much fuss, I was placed with my belly on the trestle and my soaking wet panties were pulled off my ass. Then my wrists were cuffed to my ankles with leather cuffs, and I was given a spreader bar between my ankles. Thus lying completely helpless over the buck, I was fucked in my ass by my mistress with her own dildo slip, after she finally removed the plug with a jerk. While fucking me, she jerked me off, and we simultaneously cummed in a great orgasm. Slowly, she then let the dildo slide out of my man's pussy and released me from the restraints. Next, I had to replace my white dress with the same one, but black. I was given a diaper and a tight pair of leather panties to keep them in place. Then she sent me home, by bus of course so that everyone could enjoy me.
Once I got home, the first thing I did was take everything off. Then I took a good shower, I needed it by now! After that I put on my nightgown and on the bed, fucking my ass with my vibrator, I jerked off again with the memories of that day still fresh in my mind, and fell asleep, tired but very satisfied.